Cleanroom environments set the highest building standards when it comes to environmental pollutants and are typically used for manufacturing purposes with a controlled microscopic level of pollutants — environmental pollutants such as airborne microbes, dust, chemical vapors and aerosol particles. These six really cool cleanrooms are examples of what to expect within a cleanroom environment. It is truly amazing and these cleanroom videos are sure to make you say Wow!
Infineon Technologies Dresden: Founded in 1994 and located in Dresden, Germany, the Infineon Technologies cleanroom is a high-end cleanroom where infinite care and precision takes place during the automated and innovative manufacturing process of power semiconductor devices on 200mm wafers and 300mm wafers. In July of 2011, Infineon Technologies Dresden became known as the world's first high-volume production site for these devices. Infineon Technologies sets the bar high with its first-class safety and highest-quality standards through its implementation of the "Zero-Defect Philosophy." Infineon Technologies runs its production system 24-hours a day and seven days a week.
TSMC: TSMC, of Science Park, Hsinchu Taiwan, is a high-end, corporate, socially responsible manufacturing company that was founded in 1987 and is known world-wide for its production of products for computer, communications and consumer electronics market segments. In fact, TSMC pioneered the dedicated semiconductor business model. Headquartered in Taiwan, TSMC has account management and engineering office locations in North America, Europe, China, Japan, India and South Korea. TSMC is known for its technology leadership, manufacturing excellence and customer partnership.
TSMC's fabrication facilities feature the most advanced manufacturing equipment to manufacture high-quality integrated circuits for customers. TSMC's giant cleanroom, the FAB, is equipped with many different types of quality air filters to keep the manufacturing environment free from contamination. Air from the outside of the facility must pass through many filters to remove particles and air contaminants. In addition to this, the room temperature, humidity, electrostatic discharge, pressure, magnetic field and vibration are also controlled.
Global Foundries: Global Foundries is based in Silicon Valley, California, but has manufacturing operations in Malta, New York, Dresden, Germany, and Singapore. Global Foundries was launched in March of 2009 and is the world's first full-service semiconductor foundry. At this time, there are seven fabs in production, which includes five 200mm fabs and two 300mm fabs, and another 300mm fab under construction in New York. Global Foundries combines advanced technology, global operations and manufacturing excellence during its production process.
Global Foundries manufacturing teams take extensive precautions every time they enter the dust-free clean rooms, because impurities pose a threat to the products being produced within the cleanroom facility. These environments are 100,000 times cleaner than an operating room. Silicon discs arrive sealed and completely free of dust at the cleanroom. Twenty-five wafers are then packed into hermetically sealed containers and sent off on a journey through hundreds of cleanroom manufacturing steps.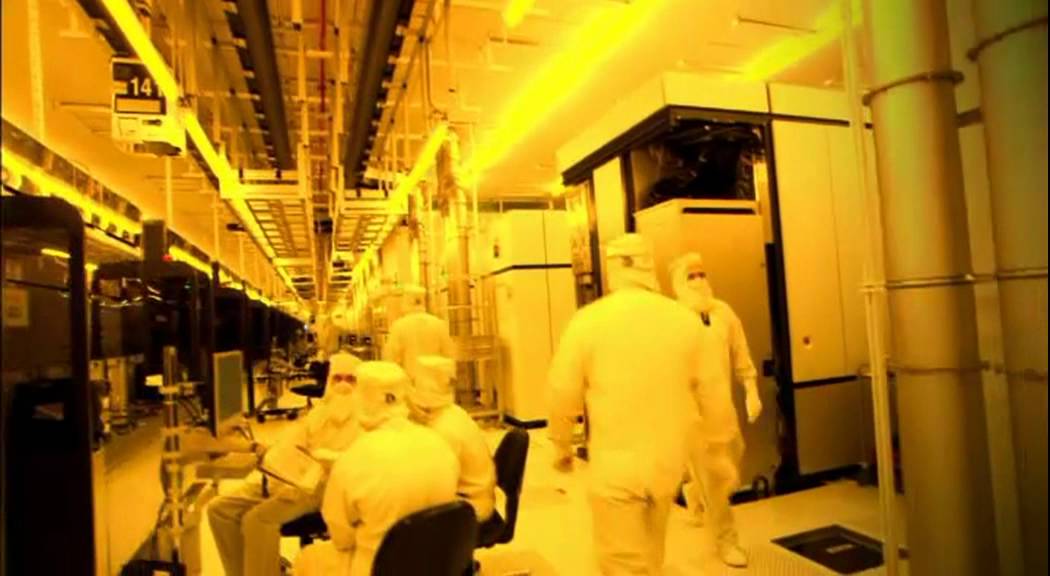 Intel's Fab 32 Facility: Intel is headquartered in Santa Clara, California and was first founded in 1968 by two scientists, Robert Noyce and Gordon Moore. The world's first microprocessor was introduced to the world by Intel in 1971. Intel maintains a heritage of innovation and manufacturing leadership world-wide.
Intel's Fab 32 facility is the company's first high-end, environmentally friendly manufacturing facility where you can expect millions of processors to be produced. It opened its doors in 2007. The Fab 32 facility has a massive 184,000 square feet of clean room space; the equivalent to three U.S. football fields.
ASML EUV Facility: ASML is headquartered in Veldhoven in the Netherlands, with manufacturing and research sites located in California, Connecticut and Taiwan. ASML is the world's leading provider of advanced technology systems for the semiconductor industry. ASML's EUV facility was built to provide a highly-clean environment for EUV machine production to avoid and eliminate any possible contamination.
ASML utilizes less contaminating clothing, mouth coverings, boots, gloves and complete air control. The decision to build this facility was made when the company decided to make the switch to Extreme Ultraviolet (EUV) imaging scanners for production processes of chips. This production process can only be done within a contamination-free, anaerobic chamber.
Terra Universal Modular Cleanrooms: The modular cleanroom is a state-of-the-art and cost-effective, economical approach to high-quality cleanrooms. Modular cleanrooms allow companies to build controlled environments that are smaller, requiring less material and are more energy-efficient. Modular cleanrooms also have portable capabilities, making them appealing to many.
There are many different types of modular clean room designs from which to choose, as well as many different material types to include in the design. Modular clean rooms are just as clean as larger manufacturing facilities, only that they're made smaller with an attempt at more environmentally friendly building measures.
In the video below, a crew at Terra Universal is shown assembling a modular cleanroom before it is packed and shipped to a client. Terra Universal has stringent guidelines and adheres to all ISO standards when manufacturing cost-effective, modular cleanrooms.