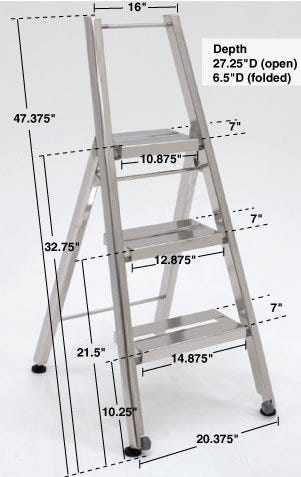 These 3-step heavy-duty step ladders are ideal for repair work or other out-of-reach tasks that could require the use of tools. They can safely handle up to 350 pounds of weight. Fold and wheel this 31-pound ladder for easy transit to the desired location in your cleanroom. When upright, polyurethane feet keep the ladder securely in place. Simply fold and store when not in use.
Cleanroom-compatible construction: made of sturdy electropolished 304 Stainless Steel
Easy to move: fold, tilt and wheel, like a suitcase
Non-slip polyurethane levelers engage when upright, ensuring stability and safety
Load capacity of up to 350 lbs
The electropolished 304 stainless steel provides excellent corrosion resistance. An all-welded stainless steel frame minimizes particle traps and maximizes strength. Use the adjustable non-skid polyurethane feet to safely level the step-ladder and avoid mishaps on slick surfaces.
A convenient handrail allows you to maintain your balance while climbing up the steps, or standing on them.